APS Accreditation
August 2018
Great news — the company has attained Corporate Practice Membership of the Association of Project Safety through the SSIP Deem to Satisfy process! This means DRPL meets the core criteria for demonstration of competence as set out by Safety Schemes in Procurement (SSIP).
Challenge Accepted
August 2018
We're excited to see this project for Hoburne Developments of 6 new build units and 4 barn conversions get off the ground. There's some great features and complex issues in the barns including exposed trusses, chimneys, feature brickwork, failed wall ties and penetrating tree roots that pose interesting challenges for contractor Colmar Construction (Poole) Ltd. We're really looking forward to seeing how this project develops — watch this space!
Sunny Day, Golf Day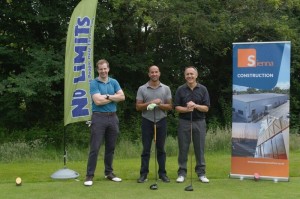 June 2018
The sun's out, so are we.
We're loving this heatwave — plenty of opportunities for golf!
Principal Designer Compliant


June 2018
Our Chas accreditation at DRPL has just been renewed, and we are delighted to now be marked Compliant as Principal Designer.
Helping Young People Find Their Feet
APRIL 2018
It has been a pleasure working with Bournemouth Churches Housing Association for the delivery of this exciting project in which DRPL acted as Employer's Agent.
Platform House comprises of a 3 storey block of 6 flats in the centre of Bournemouth. It provides accommodation and support for young homeless people and enables those housed to engage in education, training and employment.
Have a look through the progression of works below.
LABC Dorset Excellence Awards
March 2018
Many congratulations to Burry and Knight and Glossbrook Builders for achieving a Highly Commended Award for their Hoburne Farm Estate Phase 8C Housing Development at the South West LABC Dorset Excellence Awards. Very pleased to be working with you both again as we continue with Phase 8E.
Chewton Oaks Completion

January 2018
It's great to see the completion of Tuakana Developments' Chewton Oaks development of 10, two and three bedroom flats in Walkford. Such an impressive building, completed to a very high standard. DRPL is proud to have been the Independent Monitoring Surveyor.
Staff Training Day
Today the DRPL team is improving their communication skills through LIFE Languages, a communications analysis tool run by Nay Parnell, DRPL's Marketing and Comms Manager. It's the first seminar that Nay has run as a Certified Trainer!
DRPL Is Awarded Investors In People Accreditation
September 2017
We are pleased to announce that DRPL has been awarded a three year accreditation against the Investors in People Standard, demonstrating our commitment to high performance through good people management.
We are committed to improving our workplace by taking care of our employees and clients. We are working towards our vision statement of being one of the lead providers in the industry with a reputation for excellence and integrity.

Investors in People is the international standard for people management, defining what it takes to lead, support and manage people effectively to achieve sustainable results. Underpinning the Standard is the Investors in People framework, reflecting the latest workplace trends, essential skills and effective structures required to outperform in any industry. Investors in People enables organisations to benchmark against the best in the business on an international scale.
Paul Devoy, Head of Investors in People, said: "We'd like to congratulate David Richards Practice Limited, Investors in People accreditation is the sign of a great employer, an outperforming place to work and a clear commitment to success. DRPL should be extremely proud of their achievement."
For more information about Investors in People please visit www.investorsinpeople.com
Bournemouth Air Show

September 2017
The DRPL team enjoyed the Bournemouth Air Show with the BPA on Friday!